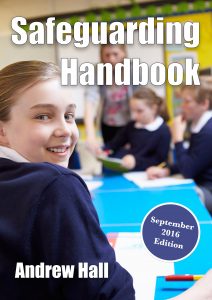 Thanks for visiting the Safeguarding Handbook website.
This is the home of the 'Safeguarding Handbook for schools'. The definitive guidance for busy Designated Safeguarding Leads, and others with responsibility for safeguarding in organisations.
This is now the 8th edition of the Safeguarding Handbook and contains new material and updates related to the new Keeping children safe in education 2016 document.
If you have a previous edition, you may like to see what's new:
Changes for version 8.02
The Handbook contains the information below:
The difference between Safeguarding and Child Protection
Effective Safeguarding
Aspects of Safeguarding
The four Categories of Child Abuse
Signs of abuse and neglect poster
Vulnerable Children
The Legal Framework
Working Together to Safeguard Children (2015)
Keeping Children Safe in Education (2016)
Regulated Activity and DBS Checks
Safeguarding in Wales
Considering the Criteria for Levels of Intervention
Action to be taken when a child is at risk of harm – Flow Charts
Creating a Safeguarding Policy
Checklist for an effective Safeguarding Policy
Managing allegations against other pupils
Flowchart for raising safeguarding concerns
Creating Recording Systems
Information Sharing
Single Central Record
Developing Safe Working Practices
Minimising Vulnerability to Allegations
Staff and Social Media
Safer Recruitment
Managing Allegations against staff
Role of the Designated Safeguarding Lead
Training
Role of the Governing Body
Sexual Exploitation of Children and Young People
Dealing with Incidents of Sexting
Peer-on-Peer Abuse
Female Genital Mutilation
Duty to Prevent Terrorism
Safeguarding Pupils Vulnerable to Extremism
Teenage Relationship Abuse
Online safety
Children's Commissioner and Safeguarding
OFSTED and Safeguarding
Independent Schools and Safeguarding
Disclosure and Barring Service
Disqualification by association
The Safeguarding Handbook is available in three versions:
Basic (Handbook only)
Enhanced (Handbook and a CD of editable documents)
Enhanced Plus (Handbook, CD and a pdf version of the Handbook for iPad or reprinting in the school)
Buy Now!